We are proud to support our community! Attend one of the following events and bid on our silent auction donations. VIP passes include 10% off bisque purchases and no studio fees for one year! Gift Shards are unique painted pieces of broken pottery that is the same as a gift certificate!  The value is as written and there is no expiration date.  It must be surrendered in order to receive store credit.  Both VIP passes and Gift Shards are redeemable at the Webster and Pittsford locations. 

If you would like us to consider a donation for your event please complete the donation request form here. Donations will require pickup. Thank you!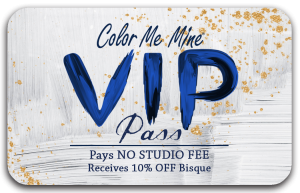 2019
03.01 | Nazareth Elementary 8th annual Bowl-A-Thon
03.02 | Rochester Travel Groups "Denim & Pearls gala for The Story Of Hope Comfort Care Home
03.02 | Wheatland Chili PTA 4th Annual Science Fair
03.02 | IACKIDS 7th annual "open your hearts" dinner
03.08 | Christ Church Pittsford Family Bingo Night
03.09 | The Association for the Blind and Visually Impaired (ABVI) Visionary Gala
03.15 | St. Paul Lutheran School Annual Silent and Live Auction
03.16 | Gigi's playhouse roaring 20's soiree
03.22 | National Kidney Foundation Honors Awards Benefit
03.23 | Her Conference
03.28 | Urban Choice Charter School Family "Minute to Win It" Night
03.29 | Northside Elementary PTA "Hero Night"
03.30 | Luau for Lustgarten Foundation 10th annual Luau
03.30 | 6th Annual Camp Stella Maris Casino Night (143)
04.06 | YoungLife Women's Basket Brunch
04.19 | 4th Annual Egg Hunt for Daisy Troop 60176
04.20 | Webster Assembly of God Easter Egg Hunt
04.26 | Annual State Road 5th Grade Carnival
04.27 | CAVE 7th Annual Pediatric Hospital Prom
04.28 | 7th Annual SEPTA Bowling Fundraiser
05.03 | Discovering Deaf Worlds 9th annual Benefit at the Hyatt
05.04 | The Clover Center Musical Cabaret Fundraiser
05.05 | St. Baldrick's Foundation ROCK the Bald at Finn's Tap Room
05.09 | East Rochester School PTA Teacher/Staff Appreciation Luncheon
05.09 | Alzheimer's Association 5th annual Culinary Clash
05.16 | AMA Rochester Annual Pinnacle Awards
05.18 | Grace Collaborative Art Show and Silent Auction
05.20 | Camp Good Days 36th Annual Tournament of Love
05.22 | Eastridge and West Irondequoit Scavenger Hunt
05.25 | Fundraising Benefit for Emma Marie Kuzmich
05.31 | Geva Theater Summer Curtain Call
06.06 | National Wild Turkey Foundation Summer BBQ
06.08 | Care Walk for Cooley's Anemia Foundation
06.21 | Robyn Palooza Golf Tournament
07.17 | Fairport Baptist Homes 9th annual "Swing for Seniors"
07.18 | Center for Disability Rights ADA Gala
07.20 | Zoey's Light Golf Tournament
08.04 | Pines of Peace 22nd Annual Charity Golf Tournament
09.06 | Catholic Charities BLAST! Event
09.07 | St. Rita's Golf Tournament Silent Auction
09.08 | American Foundation for Suicide Prevention Motorcycle Ride
09.14 | YMCA Raffle
09.21 | Wayne Central Education Foundation Fall Festival
09.29 | CURE Childhood Cancer Association Brunch and Auction
10.12-13 | Webster Theatre Guild's production of "South Pacific"
10.26 | St. Lawrence School 18th Annual Walkathon
11.10 | Lots to the Tots
11.13 | Kick off dinner for Paralegal Association of Rochester
11.16 |Nazareth College Equestrian Team Silent Auction
01.07 | Southlawn Elementary PTSA Bingo Night
03.06 | Nazareth Elementary 9th Annual Bowl-A-Thon
03.06 | Benefit Pasta Dinner for Cal Seitz
03.07 | Webster Montessori Annual Fundraising Event
03.12 | National Kidney Foundation Honors Awards Benefit
03.14 | GiGi's Playhouse 5th Annual Red Carpet Gala
03.14 | GRASP Vegas Night



Also check us out at the Great American Bowl-a-thon for the Junior Achievement of Central Upstate NY. They have several event days being held March-May 2019.