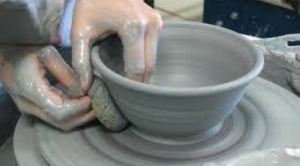 In this one hour session you will learn the basics of wheel throwing. Each participant will be able to create 2 hand thrown pieces. It also will include the first firing of your pieces. If you wish to paint your pieces after the first firing you can do that for an additional $10 studio fee for the paint and second firing.
We can accommodate up to 3 wheel throwers at each session.
If the class times we have listed do not work for your schedule please email us at pittsford@colormemine.com and we can make arrangements that will work for you and the instructor.