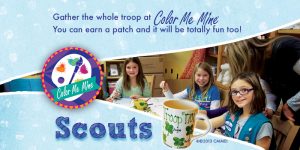 Two Scout Party options: 
CLAY BADGE EVENT……………………$25 per scout 
Each artist will hand-build a coil turtle with clay and paint it.  Visits include instruction on how to properly hand build with clay using the score and slip method, a kiln room tour and explanation of the firing process.  Minimum 8 painters. 
POTTERY PAINTING FIELD TRIP…………………………………..$25 per scout 
Your visit includes a choice of a plate, bowl or mug for each painter. Scouts will hand-paint their masterpiece and have fun learning about pottery, paint glaze, over-glaze and the firing process with our staff instruction.  Visits include a kiln room tour.  Minimum 8 painters. 
 *Scout events are scheduled Monday-Thursday in our studio and last 1 1/2 hours.  Minimums apply to receive these prices.  The $50 fee is for the use of the studio after hours.
Please Note: You will be billed for the actual number of scouts that attend (minimums apply) from the participating troop. Final payment is due at conclusion of the event. 
We do not have time allotted to serve food for this event, if you would like to serve food you will need to purchase an addition half hour of time for $50.00. 
We welcome siblings and parents to paint during this time with the same instruction and project.  
SCOUT EVENTS ON THE GO!…………..$25 per scout plus $30 onsite fee
We do events here, there and everywhere. Let us bring the fun to you! To Go events are the same pricing as our In Store events, but with a $30 On Site Fee if a Color Me Mine staff member runs your event.
If you would like to do your party at home on your own them simply go to our book a party site and choose "party to go".   The price is set for 8 painters that will paint a bowl, plate or mug.   You take the supplies and pieces home with you to paint.  Once completed you bring them back to the studio for firing.  
So many fun options for your Scout troop!  Choose the one that works best for you!