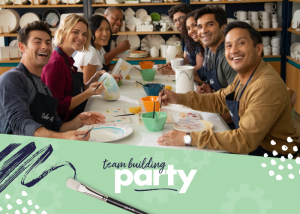 It's time to add a little color to your work day! Let Pittsford Color Me Mine help! 
Pittsford Color Me Mine is a great team building and/or celebration activity for your hard-working staff! Have your event at our studio, or let us come to you–either way, we take care of all the work and you have all the fun! Join us for a fun filled session of pottery painting and building relationships with your fellow co-workers! Our studio handles 8 to 50 painters and we can do on-location events as well. We offer many different solutions and will be delighted to discuss the best options for your event. Select from a themed option below or let us customize an activity for your group! Email us at www.pittsford.colormemine.com or check our website under "buy to go" for pricing! 
This Mug is for You 
This Mug is for You is a team building exercise that gets the group working together. Each individual starts by painting his/her name on a mug other choice and passing it along. The next person adds a word or symbol that represents that mug's owner. The mug goes around until it arrives back at its starting place, filled with personality! 
Social Gathering 
Select your pottery and paint the afternoon away! Spend time in a casual and creative setting, getting to know your fellow co-workers! Mug Mix up! Fill out a fun questioner about yourself on a piece of paper. We are going to throw them into a hat and have everyone draw a name. Paint your selected person a mug while getting to know a little more about them!
Mug Shots 
Create a mug with your own style and flair. When the bell rings, you will pass it around the group where everyone will write a positive word about the mug's creator. When completed, you will have a mug that warms the hand and the heart. 
Symbol Mug 
Each team member will think of a symbol that represents them. You will paint that symbol on everyone's mug. When finished you will have a mug full of your teams personality. 
Pricing 
* $50 fee that includes a studio team member to assist with the party. 
* The price of your pieces you choose to paint. We have a wide selection to choose from. 
* 4 paint colors per person, the glazing and firing. 
* 20% gratuity 
*  8 % Sales Tax 
* (8 person minimum) 
If your event is outside the studio, there is a $50 Travel Fee. 
Want to customize an activity for your group? We would love to help! Email us at www.pittsford.colormemine.com and we can customize your event based on your needs.